Other things to do in Bristol
We would like to think that anyone visiting Bristol would consider us at Bristol Design the main attraction and activity but being realistic other things can be of interest. We are located centrally so many attractions are within 2 to 10 to 15 minutes walking distance.
A few things which might be of interest:
Attractions
Of course right at the moment (mid May 2020) rather a lot is closed down, but it can still be a pleasant walk to the harbour, or up into the University Royal Fort gardens.
Just along the road is The Red Lodge Museum which is fine example of a Tudor home and furniture along with other examples of furniture and wall panelling. A good visit for anyone interested in furniture or woodcarving. They have been very helpful to some of our customers interested in furniture construction from times past. 0117 921 1360 https://www.bristolmuseums.org.uk/red-lodge-museum/
The Georgian House Museum is also interesting and not too far away. Both have periods of being closed so worth checking the website. The Bristol Museum & Art Gallery is a few minutes along the road.
Just up St Michel's Hill or along a variety of pathways is the University of Bristol's Royal Fort Garden which is a pleasant garden with some interesting sculptures.
Brandon Hill, with the Victorian-era Cabot Tower. It's a park with great views over the city and docks, place to sit on grass or just have a short walk.
Colston Hall, Bristol Hippodrome theatres a couple of minutes walk away while the Bristol Old Vic is about 0.7 miles away.
Bristol Harbourside, i.e. The Docks, about 7 minute walk, 0.4mi. Boats, shops, bars, restaurants and just a place for a pleasant walk. Bristol Aquarium. Some weekends have festivals, concerts and more. Bristol Cathedral is along in this direction with the impressive St Mary Redcliffe Church (15th-century church full of gothic detail) a bit further.
Shopping areas Broadmead and Cabot Circus are the two large ones but locally we have lots of specialist small independent shops. Castle Park gives a bit of green space backing these shopping area.
Eating: lots. Variety of cafes, pubs, restaurants nearby. At one time I counted 45 pubs within a 5 minute walk, probably more places for food.
Other tool shops
Yes we have a huge range of tools, but not everything. We generally won't have the favourite power tool you want, or much in decorating, only a little gardening, limited amounts of old and used hardware, nothing in workshop machinery so some other choices:
Cotham Hardware, 1 Cotham Hill, Redland, Bristol BS6 6LD, 0117 973 5687. Doing hardware more than tools. Like us an independent business but with ranges of up-to-date modern hardware not always found in the big sheds
Bell Tools in a couple of locations. Good for power tools and more
Toolstation, big chain with multiple outlets in Bristol, power tools, consumables, hardware
ScrewFix
Buck & Hickman,
FastFix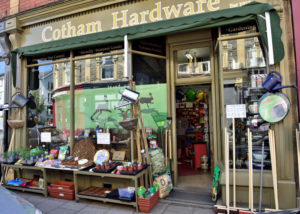 Timber supplies
Robbins Timber 0117 963 3136 http://www.robbins.co.uk Brookgate, Ashton Vale Trading Estate, Bristol, BS3 2UN stock hardwoods, softwoods, sheet material
Bristol City Timber 39 Ashton Vale Road, Ashton Gate, Bristol BS3 2HW  Phone: 0117 9636683 mainly supply for building industry
Golding Timber & Board Merchants Ltd   0117 960 6813 Moravian Rd. Unit C, Kingswood, Bristol BS15 8NF softwoods, boards generally for building industry www.goldingtimberbristol.co.uk
Bristol Wood Recycling Project  0117 329 4319 Unit 4 William Street, Bristol, BS2 0RG
Scadding Timber  01179 556032 Scadding hardwoods, softwoods
Eastman & Co (Timber)   0117 966 1596 Princess Street, Bedminster, Bristol, BS3 4AG www.eastmantimber.co.uk  0117 986 1383 hardwoods, softwoods and sheet materials
Avon Plywood   0117 986 1383 Pixash Works, Pixash Lane, Keynsham, Bristol BS31 1TR https://avonply.co.uk/ mainly sheet material but some softwoods
Original Marquetry Ltd   0117 9442640 Westbury-On-Trym Bristol BS10 5AF http://www.originalmarquetry.co.uk Not an immediate neighbour but not too far, specialists in veneers
Bendrey Brothers Ltd.   0117 9674382  Warmley BS30 5JW https://bendreybros.co.uk/